In a bid to capture the attention of the voters for the impending elections next year in the state, Uttar Pradesh Chief Minister Akhilesh Yadav on Monday announced that the government plans to distribute free smartphones to its residents under its new 'Samajwadi Smart Phone Yojana' scheme. However, there is a catch – not everyone is eligible to get one.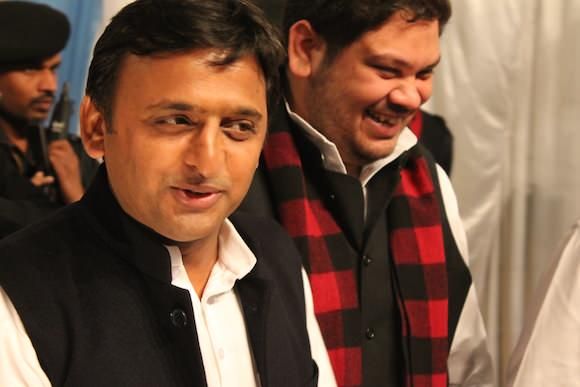 In order to be eligible for a free smartphone, the resident has to be above 18 years of age as on January 1st, 2017, should have passed high school minimum, and the cumulative family income should be less than Rs 2 lakh a year. Moreover, employees of the state government and their kids won't be eligible for the offer. To apply for the 'Samajwadi Smart Phone Yojana' scheme one has to upload a scanned copy of the high school certificate for proof.
The online registrations for the same are expected to start sometime next month, tentatively. The Samajwadi party believes that it can cut out corruption by making the entire process of booking the phone online, with registered users getting timely updates by SMS. While interested candidates can pre-order for the smartphone after a month, the distribution of the same will begin only in the second half of 2017; indicating that the incumbent Samajwadi party leader hopes to win the elections next year.
The details of the smartphone itself are not available at the moment, but an official told IANS that the phone will be equipped with "latest modern technology and it will have all the facilities of a modern smartphone." Additionally, an app installed in the phone will include audio, video and textual information about the state government. The information will include latest rates of agricultural products, details of the best practices for agriculture, and weather updates too. It will also have information about jobs and vacancies, reading material for students, and entrance exam results. Small time business people will also benefit from the app because it is expected to include information about loans and other financial assistance. Users will also be able to share feedback to the government using the app.
Interestingly, this new smartphone scheme is similar to the free laptops that the Samajwadi party distributed returned to power in 2012 in Uttar Pradesh. Yadav's government had distributed close to 18 lakh laptops at the time. However, it wasn't without its fair share of controversy. One of which, was the fact that the government ended up owing crores to HP, the company that actually supplied the laptops.
It should also be noted that Yadav's scheme is not a first-of-its-kind state policy in India. This year, similarly, the DMK party in Tamil Nadu claimed to offer free smartphones to poor families. Furthermore, the same party manifesto also stated that it would waive off education loans, tablets and laptops with 3G/4G connections and 10 GB per month download option for 16 lakh students.