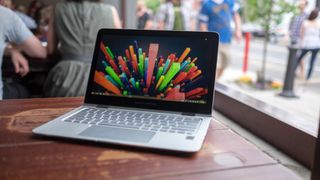 For us, these are the top sub-£1,000 laptops on the market at the moment. We've deliberately chosen a selection of different types of laptop below — from Macs to ultrabooks and hybrids.
Now it's your turn to choose how to spend your money.
However, if you just want to know what's best and aren't interested in looking further, then we'd direct you to the MacBook Air.
Apple's ultraportable might seem like it's ageing, but it's still a superb machine for just shy of £1,000. Fast, reliable and worth every penny.
The 13-inch MacBook Air measures 1.7cm at its deepest point and weighs an astonishingly light 1.35kg making it ideal to take with you wherever you need to go. And there's 128GB of fast flash storage on board, too!