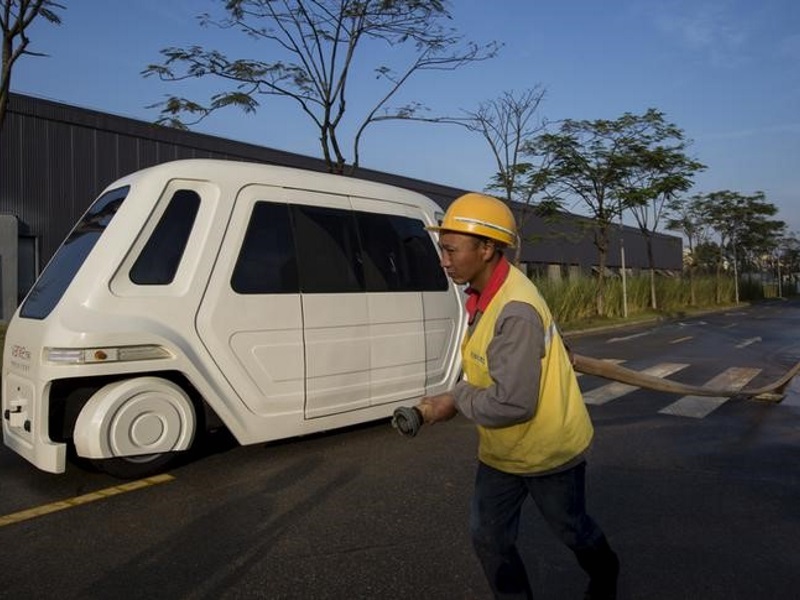 China Vanke, the biggest property developer by sales in the world's most populous country, is recruiting robots to sweep floors and guard its properties to address a labour shortage and rising wage bills.
As Chinese developers struggle with lacklustre sales and tighter industry margins, China Vanke, like many, is looking to premium concierge services to attract customers, and it said robots would provide some of those services.
You can already buy a robot waiter for CNY 40,000 ($6,300 or roughly Rs. 4,17,000) on Alibaba Group's Taobao, China's leading online market place, but Vanke is developing its own, mostly for janitorial, security and transportation services, which are more labour-intensive than the core business of land acquisition, project planning and construction.
"We estimate that with today's growth and the changes to China's personnel structure, that at least 30 percent of our jobs will be replaced by robots," China Vanke's chairman Wang Shi recently told a university forum in Hong Kong.Vanke rolled out a driverless car and a patrol robot earlier this year, and plans to introduce a floor-sweeping robot at the end of this month.
Wang said in August that eight robot chefs already worked in the restaurants that serve its developments. He added that in 2017, it would open a robot-managed hotel in the southern city of Shenzhen.
Vanke expects its total employees to jump 25-fold to 1 million in a decade from the current 40,000, though the company hasn't said if some of those will run on batteries.
China's urbanisation push and ageing population has made especially younger workers much more footloose and less willing to work in smaller cities, resulting in a spike in wages across the country.
Foxconn, the trading name of Taiwan's Hon Hai Precision Industry, which employs more than 1 million factory workers in China, is also stepping up the adaptation of robotics to ease a labour crunch. Its chairman Terry Gou once said the company aimed to build a million robots.
On a recent visit to Vanke's research centre in the southern city of Dongguan, Reuters reporters saw a researcher working on a prototype driverless vehicle designed to shuttle up to 10 people across its sprawling residential estates.
"Nowadays some housing estates or commercial malls cover a large area and feature long paths," said Zhang Jinming, a member of staff involved in the automation project. "Our driverless cars can solve the problem of transportation within roughly 1 km, and it won't involve any labour cost."
Vanke declined to give details on the cost or job savings, or the planned investment in robotics.