From beer gardens on the rooftops of department stores to fireworks extravaganzas to quiet, wood-paneled craft breweries, Japanese seem to quaff an awful lot of beer in the summer.
But beer consumption has been tanking for five years straight in Japan, as the younger generation shies away from the obligatory after-work drinking that was a trademark of the dark-suited heroes of Japan Inc.
Japan's annual per capita beer consumption fell about 7 per cent between 2010 to 2015, according to a study by major beer maker Kirin.
The future outlook is for more of the same. It's such an obvious trend that there's a Japanese phrase to describe it, "beerooh banareh," or "leaving beer," a gradual decline that hit after beer drinking peaked in about the mid-1990s.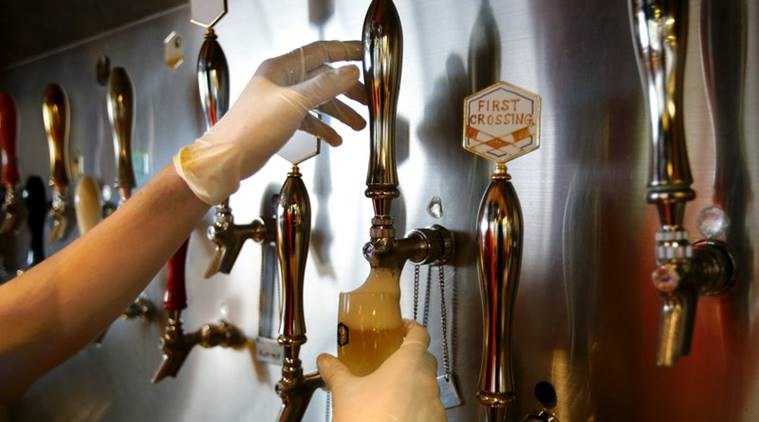 In this photo, a server pours a beer into a glass at a beer restaurant Spring Valley Brewery in Tokyo. Major beer maker Kirin opened a craft brewery – still relatively uncommon in Japan – in Tokyo's fashionable Daikanyama district two years ago: Spring Valley Brewery. Kirin's brewery has a western menu, spacious terrace and beers with names like DayDream and Jazzberry that are brewed behind transparent walls. (AP Photo/Shizuo Kambayashi)
Younger Japanese tend to be more independent-minded than their baby boom generation parents or their grandparents, who saw going out for beers with their office bosses and co-workers as a call of duty.
Brews also are losing out in Japan to a wide variety of other liquors, from wines to "kanchuhai" fruity cocktails, whiskies and cheaper beer-like drinks, and of course, sake.
Naturally, all this worries Haruhiko Matsuba, marketing manager for Asahi Breweries, the industry leader in Japan.
"The custom is getting lost," said Matsuba, who says he enjoys a beer or two a day. "Beer can offer joy, happiness and smiles, and so everyone should try beer again."