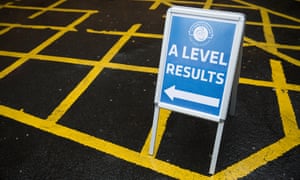 Pictures of elated teenagers jumping with joy and stories about high-achieving students gaining places at Oxbridge were all over the news last week. But not everyone has been celebrating A-level success and the publication of the results of new, tougher GCSEs on Thursday will undoubtedly see more pupils unhappy with their grades.
The overall A-level pass rate (grades A*-E) was 97.6% this year, the lowest figure since 2010, and the proportion of students gaining C grades or above dropped from 79% to 78.4% in England, following the introduction of more challenging exams.
For some of the 129,700 A-level students who last Thursday woke to find they did not have a place at university because they did not achieve the grades needed, the future may have looked bleak – or at least a bit cloudy. But you never know where you may find a silver lining. We asked five people with experience of exam disappointment for their strategies and coping mechanisms.
The parent and the high-achieving student
"When I got my results [he was predicted three As and got three Bs], my life stretched before me like a black hole and my immediate urge was to be apathetic and not do anything about it.
"Comparing myself to my peers only made it worse. I felt so alone that day. I remember apologising to my mum for letting her down, and her turning round and telling me I was being an idiot. But in my mind, I was an abject failure."
His mother Sarah, 55, says: "I remember Fred was gutted about his results but, personally, I wasn't disappointed. My priority has always been his happiness. He had decided at 14 he wanted to study medicine, which is very young. At the back of my mind, I had always been concerned he was veering away from his natural interest in the humanities. In my opinion, you should study something that makes your heart sing."
She encouraged him to look for another course through clearing. "When he saw a classics course he could apply for, I reminded him about how much, as a small boy, he had enjoyed learning about the Greek and Roman myths. We stressed that, if he gave it a go but hated it, he could come home at Christmas and we would come up with another plan together."
"That really helped," says Fred. "I felt massively supported." He got in and "never looked back," Sarah says. After winning an award for his high marks in his BA, he is now studying for an MA in classics.